Our Call2ACTion Program is a defining piece of the BolderLife Festival. Throughout the festival, local organizations partnering with the BolderLife Festival will staff tables with help and information to further the discussion on a selection of our film topics.
Partner Organizations and Films
The following organizations are listed in chronological order as they are present during the festival. Some organizations are also hosting or participating in panel discussions during select films and each will be listed below.
---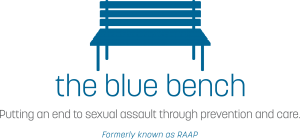 The Blue Bench
Blue Bench staff will be partnering with other local professionals to host a discussion panel focusing primarily on "changing the conversation" away from victim blaming and rape culture. Resources about the work of The Blue Bench, resources, hotline cards, etc. will be offered at our table.
The Blue Bench (formerly RAAP) is metropolitan Denver's only comprehensive sexual assault support and prevention center.  Since our founding in 1983 we've worked tirelessly to eliminate sexual assault and diminish the impact it has on individuals, their loved ones and our community.
Our hope is to one live in a world where sexual assault no longer exists; where there are no more victims, friends and families suffering in its wake.  This is our hope.  This is what motivates our efforts.  And, until that day comes, our work is not complete.
Table Presenter – Colleen Potocki

Colleen Potocki is the Canvass Director for and manages the team of passionate and informed community organizers who are committed to inspiring fellow community members to join us in our fight to end sexual assault. Along with her team, Colleen informs the public about the realities of sexual assault, collects donations and works to ensure that every house hold in the Denver area knows that this resource exists for them and their loved ones.  Colleen began her career at The Blue Bench as a canvasser in 2011.  She then led the Southwest canvass team for Ohio Citizen Action.  She also campaigned in East Lansing and Ann Arbor, Michigan, on renewable energy issues, and in Dallas, Texas, on an electronics waste recycling campaign.
Table Presenter – Lindsay Beaudry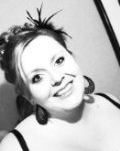 Lindsay Beaudry provides overall administration for prevention and education services including; collaborative relationship building, generating curriculum, the management of classes for parents andstudents, as well as program development. Prior to joining The Blue Bench, Lindsay coordinated health and human service related initiatives (pertaining to substance abuse, trauma, mental wellness, violence, poverty, etc.) designed to assist in the generation of a community wide system of care for vulnerable and oppressedpopulations in several Michigan counties. Lindsay is skilled at crisis stabilization, passionate about policy change and believes that only communities can put a stop to the perpetuation of "rape culture." She graduated with honors from Colorado State University with a Bachelor's degree in Sociology and from the University of Michigan with a Master's degree in Social Work. Lindsay is a positive, engaging, life-long learner who is eager to make a difference in the life cycles of individuals, systems and communities by having conversations about important issues.
---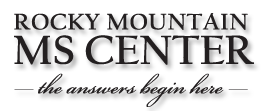 Rocky Mountain Multiple Sclerosis Center
The Rocky Mountain MS Center will provide educational resources—including copies of our quarterly magazine, InforMS—as well as general information on our various programs and services and ways to sign up to learn more.
The Rocky Mountain Multiple Sclerosis Center, which was founded in 1978, is a local non-profit organization dedicated to improving the lives of people with multiple sclerosis (MS) and their families through care, support, education and research. The MS Center does this through programming that includes an adult day program, counseling services, social security disability assessments, educational seminars, MS clinic care and physical therapy, and cutting-edge research.
Table Presenter – Bridget Blanning
Bridget Blanning joined the Rocky Mountain MS Center in 2008, and since then has filled various roles including grant writer, website editor, and publication contributor. She is now the Program Liaison, a role that helps integrate the primary campuses of the Rocky Mountain MS Center (Westminster and University Hospital) and ensures that those being served are receiving integrated care and comprehensive wellness. Bridget has undergraduate degrees from University Colorado at Boulder in Journalism and Spanish. In her free time, she enjoys spending time with family, making things, and riding her bike.
Table Presenter – Monica Tall
Monica Tall joined the staff of the Rocky Mountain MS Center in June 2013, bringing with her extensive knowledge of MS. For seven years, Monica worked for Can Do MS (previously The Heuga Center) in Vail and learned about meeting the needs of the MS community. Today, Monica addresses the communication and marketing needs of the MS Center—a wide array of tasks that involve fundraising, education and outreach. Monica attended Colorado State University where she completed a bachelor's degree in Journalism. When not working, Monica loves going camping, doing yoga, and playing with her dog.
---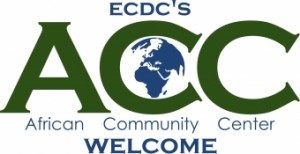 African Community Center
Come learn more about how refugees are welcomed as they build new lives in Denver. Representatives from the African Community Center will be present to share more about the resettlement process for refugees and the programs that we offer to support our refugee community.
ECDC's African Community Center is a refugee resettlement agency, resettling individuals from all over the world in Denver.  Are mission is to help refugees rebuild safe, sustainable lives in Denver through supportive networks of people, services and community activities.  Through the richness of community, the celebration of all our differences, the voices and contributions of each member of the community, and the process of learning together, ACC strives to create an integrative center of multicultural exchange where community members feel a sense of belonging and actively contribute to an inclusive society.  ACC offers supportive programs including resettlement and case management, youth programming, mentoring, and job skills and employment training, including Safari Thrift.
At Safari Thrift our refugee community members are empowered to build safe and sustainable lives, through job training and experience, work culture competency, and the space to contribute one's skills and expertise.  We are sad to see our current funding for Safari Thrift cut at the end of this year, but are hopeful and working hard to find new ways to keep alive the mission and impact of Safari Thrift.  Like the community which we serve, ACC's many supportive programs are resilient and creative under pressure.  To learn more about ACC and how you can join our mission, visit www.acc-den.org or e-mail us at outreach@acc-den.org.
---
Allies in Diversity
Allies in Diversity is a Gay Straight Alliance (GSA) at Manhattan Middle School, in Boulder, CO. We have over 100 students who celebrate everyone, including LGBTQ students. Allies supports all people regardless of race, gender, sexual orientation and/or ability. We do not tolerate our differences, we CELEBRATE them.
Table Presenter – Tracy Stegall

Tracy Stegall is the Principal at Birch Elementary in the Boulder Valley School District and a founding member of Sound Circle, a women's a cappella group that is part of the Gay and Lesbian Association of Choruses.  As a graduate of The Colorado College and the University of Colorado at Denver, Tracy has also been the Co-Director of the Denver Writing Project, the Assistant Principal at Monarch K-8, a sixth grade language arts and reading teacher, a camp counselor, and an adolescent who believed that she was the only person who identified as a lesbian in her high school.  She is featured in the film "100% Myself" and is proud to work in a school district that includes sexual orientation, gender identity, and gender expression in its non-discrimination policy.  Tracy lives in Lafayette, CO with her wife.
---
Parkinson Association of the Rockies
The Parkinson Association of the Rockies supports, strengthens and empowers the Parkinson's Community in Colorado. We do this through innovating, educating, promoting research, creating awareness, serving as an advocate, and providing support services for the Parkinson's community.
---
Family Tree
For over three decades, Family Tree has provided innovative, life-changing services designed to end child abuse, domestic violence and homelessness. As the only organization in the state to address the interconnectedness among these issues, Family Tree is changing how individuals, families and communities see, respond to and overcome them. In the past year, Family Tree provided services to tens of thousands of people in efforts to empower individuals to discover their own strengths to create lasting, positive change.
---

NAMI Colorado
NAMI Colorado is dedicated to building better lives for the 250,000 plus Coloradoans and their families who are affected by any number of mental illnesses – schizophrenia, bipolar disorder, depression, PTSD, obsessive-compulsive disorder, borderline personality disorder, panic disorder and others.
The mission of the National Alliance on Mental Illness (NAMI) Colorado is to build communities of recovery and hope by educating, supporting and advocating for individuals affected by mental illness and their families.