Craig Zablocki – A Motivational Speaker for Change – With Opening Speaker Mark Andreas
Craig Zablocki wants to bring you a  world where audiences don't just sit through a humorous keynote, but sit on the edge of their seats. A world where what they learn gets used right away, gets passed on to others, gets results.  A world where everyone leaves more connected to one another, more alive and having more fun. Craig is one of the best prepared humorous motivational speakers available. He works closely with meeting planners to understand the message that needs conveyed and then sculpts his humorous message to the targeted audience. Audiences love Craig's use of humor to open their minds, encourage laughter and facilitate meaningful change.
Talk Information
SIE Film Center – 2510 E. Colfax Avenue Denver, CO 80206
Sunday, December 8th, 2013 – 11:00am
Ticket Price: $15 all admissions – pre-order your tickets here:
The Humorous Motivational Speaker
There are many fabulous motivational speakers available today. When you read Craig's testimonials you will see that Craig is an expert at introducing humor into a motivational speech. Craig speaks from the heart and as a humorous motivational speaker, audiences know they are experiencing an exceptional speaker. Craig's humor is specific to his  audience and only reinforces the theme of the meeting. His humor allows audiences to gain new insights and walk out with tools they can immediately use to better themselves and the organization.
About Craig
Craig Zablocki has spoken to over 900,000 people internationally and in all 50 states. From cops to gang members, from surgeons to school superintendents, from lawyers to Realtors; he has addressed sales executives, child-abuse-prevention specialists, farmers, New York executives, hospice workers, college professors, federal prison workers, mental health specialists and the armed forces. Thousands of organizations rely on Craig. He travels from Denver, Colorado and looks forward to bringing his humor to your organization.
Opening Guest Speaker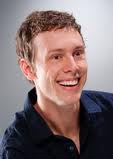 Mark Andreas
Mark Andreas has a Personal Change Coaching private practice in Boulder CO, where he offers individual sessions assisting people in achieving life-goals and resolving limitations using NLP, Core Transformation, and other methods for personal transformation and development. Mark specializes in the topic of anxiety, and working with youth (markandreas.com). He is also a co-sponsor of Andreas NLP Trainings (andreasNLPtrainings.com), which offers cutting-edge NLP trainings in Boulder. Mark has traveled the country sharing stories and offering workshops based on his book "Sweet Fruit from the Bitter Tree: 61 stories of creative and compassionate ways out of conflict," endorsed by Dan Millman and William Ury.
In situations of conflict, is it possible to change the behavior of others by changing our own behavior or by using the right words skillfully and with heart? Conflict comes in major ways between groups and nations, but also in small persistent ways between strangers, neighbors, friends, and family. Mark will recount a poignant story from his book, "
Sweet Fruit from the Bitter Tree: 61 Stories of Creative and Compassionate Ways out of Conflict
," a collection of how real people responded to conflict situations in creative and surprising ways many of us would never think of. Signed books will be available for purchase for $15.00, and all proceeds will go directly to the BolderLife Festival.