BolderLife Education: Panel with The blue bench
Our educational program sets us apart from other festivals. BolderLife invites local and international educators to provide an authentic voice on topics that are relevant to the film line up as well as to living a "bolder life".  It is a concept that focuses on reaching out to people and striking up conversation. It is an opportunity for our community to come together and see what is going on in the minds of one another. It is a platform where we can learn from one another, expose ourselves to differing perspectives, and examine who we are as individuals as well as a community. It is designed for the people who are fueled by inspiration; the adventurers and the passionately curious. At their best, the BolderLife educational programs are a ballast to dominant modes of thoughts and a forum for unique ideas.
One of these educational pieces was a panel with members of The blue bench following the film "Goodnight". The discussion focused primarily on "changing the conversation" away from victim blaming and rape culture.  We wanna thank Colleen Potocki, Lindsay Beaudry, Rachel Alpert and Michele Cooper for the inspiring  and interesting discussion.
We have talked with the ladies prior to the panel.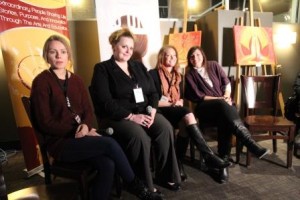 BolderLife Festival: BolderLife Festival is heading into its 3rd year. How did you get involved in BolderLife? And why did you decide to be a part of this festival?
The blue bench: 'Goodnight' panel members were fortunate enough to be invited to be part of the BolderLife event by festival organizers based on personal and community connections. This invitation was particularly exciting because of how much the event resonated with panel members as a great opportunity to engage with the public about issues that challenge all of our communities. Panelists will participate in the festival in hopes of sparking meaningful conversations about boundaries, the culture of body image, healthy sexuality and consent, and bring these issues out of the shadows.
BolderLife Festival: You are representing blue bench. Would you please introduce your organization?
The blue bench: While not everyone on the panel is employed by The Blue Bench, each member of the team finds truth and hope in the mission and values of the organization. Michele (CORtherapy) and Rachel (RBA Counseling, LLC) are private practice therapists in the Denver Metro area who concentrate on disordered eating (Michele) and therapy related to healthy sexual expression (Rachel). Coleen and Lindsay are employed at The Blue Bench as program directors specializing in outreach, education and community engagement. The Blue Bench (formerly RAAP) is metropolitan Denver's only comprehensive sexual assault support and prevention center. Since founding in 1983 they have worked to eliminate sexual assault and diminish the impact it has on individuals, their loved ones and our community. The Blue Bench continues its work in hopes that one day we can live in a world where sexual assault no longer exists; where there are no more victims, friends and families suffering in its wake. This is what motivates efforts. And until that day comes, their work is not complete.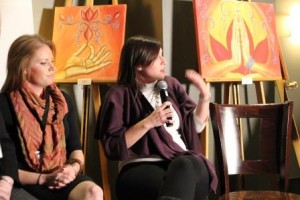 BolderLife Festival: You will host a discussion panel following the film "Goodnight". What do you think about this film?
The blue bench: The 'Goodnight' panel was riveted by this powerful film, struck most by the inferences and societal expectations of young women, as well as men presented by this title. The situations and images depicted in the film paint a chilling portrait of the pressures and norms embraced by society that perpetuate victim blaming, rape culture, body image issues and a distortion of sex and healthy sexuality.
BolderLife Festival: What do you think about in BolderLife's new mission/vision statement?
The blue bench: The panelists were all equally impressed and enthusiastic about the new missio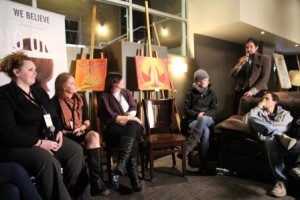 n and vision of the BolderLife Festival. The platform created by this new message will invite community members to come out and be part of solutions that impact local, state and global issues by changing the conversation about how we address and talk about hard issues that have been shrouded for years. Perhaps the most moving part of the new mission and vision is the call to action implied in the statements. Come engage, learn, speak; and find out what calls you to action as an individual. Be more, do more, be BOLDER. What a great message.
BolderLife Festival: What would you say to the world: Why should people come to the festival?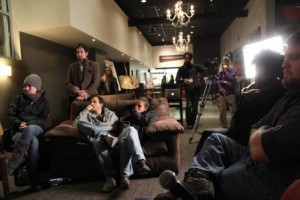 The blue bench:  The 'Goodnight' panel would like to invite people to come to the festival to seek opportunities to grow and learn in a creative and safe space. This festival is a place to hone in on your own truths while engaging in conversations with issue informed mavens. Many societal issues are riddled with misinformation that has encouraged community members to unintentionally turn a blind eye and perpetuate ignorance that insulates the status quo. The panel invites community members to come challenge such paradigms by trying on new "lenses" to see the world through. All of us can make an impact on the world we live in and seeking out a variety of opportunities to find our own truth and passion will help us figure out where we should be spending our energy.
BolderLife Festival: Do you live a BolderLife? What do you personally think how to live a bolder life?
The blue bench: It is with great pride that the 'Goodnight' panelists affirm that they are engaging in living a BolderLife, though we all have room to grow bolder! Each member is dedicated to pulling the issues of body image, victim blaming, rape, healthy sexual development and oppression into mainstream conversations by sharing what we know about these taboo subjects. These topics deserve dialogues, they deserve a spotlight, they are in need of new conversations that challenge misinformation and refuse to perpetuate apathy. The panel is grateful to those individuals who are willing to share in this charge, regardless of if you feel your life has personally been touched by the issue. We are grateful that you are willing to open yourself up to being part of the change movement, lending your strength to those who feel their voices have been muted. By standing up, you are indeed living a bolder life.
Thank you very much!