That's it! BolderLife Festival 2013 is history. Guests, staff and live stream viewers have shared and celebrated a wonderful closing gala.
Artistic Director Erin Kelly and the staff members Jobi Berger (Filmmaker Liaison) and Dawn  Bower (Director Educational/Theater Program) announced the award winners 2013:
Audience Choice Awards:
Feature Length: "Lonely Boy"
Feature Documentary: "Fly by light"
Animated Short: "Lost and Found"
Documentary Short: "Healing Power of Art"
Narrative Short: "Goodnight"  
Best Short Play: "Feng Shui Fever"
Honorable Mention Awards
Feature Length: "Splijt! Regret!"
Feature Documentary: "Transforming Loss"
Animated Short: "Lost and Found"
Documentary Short: "Healing Power of Art"
Narrative Short: "Goodnight"       
"Creative Expression" for Choreographer Julia Kay and the dance performance of "Point your Damn Toes" Company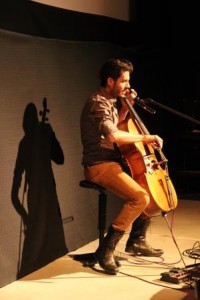 A freaky, sleepless, exhausting week is trailing behind the BolderLife Festival team. But also days filled with moving and inspiring moments, funny meetings, empowering and challenging conversations.
One of the most asked question these days has been: Why are we doing this?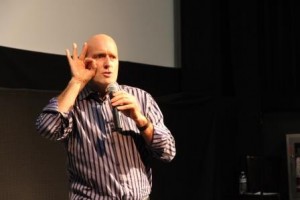 Sunday morning we shared 2 hours with motivational speaker Craig Zablocki. He gave us the answer: Remember what children do: They are living in the moment! Forget all your fears and concerns, dare to speak openly, dance and sing when you feel like, paint a picture, make funny things, cry and laugh out loud when you are sad and happy, be honest, be tolerant, be free, love, play, make friends and choose to be bold.
That's why: We chose to be bold. We want to share this movement with as many people as we can, because it feels freaking awesome.
Thanks to our filmmaker's artists, musicians, dancers and theater people who allowed us to showcase their work. Thanks to our educators who taught us how to live a bolder life. Thanks to our audiences, both at the Film Sie Center and the Crossroads Theater as well as to all the viewers, who have been out there on their computers.
Thanks to our sponsors, supporters and kickstarter backers who gave more than their money. The tequila was great! Thanks to the Crews of the Sie Center and of the Crossroads Theater and thanks to all of our wonderful volunteers and the amazing staff.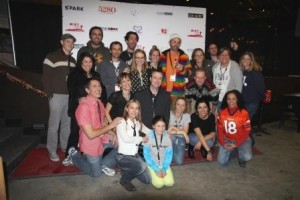 If you want more BolderLife go out tell your friends, family, coworkers, grab a strangers hand and share our vision: Exploring Life – Inspiring Change!
And don't wait for tomorrow. Start now!
Thank you so much for  being a part of BolderLife Festival 2013.
See you next year!