Alan O'Hashi is a Director, Producer, Fund Developer, Facilitator.  He has been involved with community journalism since 1963 when he wrote for his elementary school paper, the FairView, through high school and college and then writing for the Wyoming State Journal.  He put aside the newspaper pen and began Boulder Community Media in 2005 and Wyoming Community Media in 2007. There wasn't much community journalism opportunity, so he  resurrected his  writing career as a screen writer. His first short screenplay, "Stardust", won an award in the 2005 Denver Screenwriting Center contest.  Since then, He has produced directed, filmed and/or edited several short movies, "Running Horses" (Runner Up – Wyoming Short Film Contest), "On the Trail: Jack Kerouac in Cheyenne" (Lowell Celebrates Kerouac Festival, Top 10 Wyoming Short Film Contest), "Gold Digger" (Boulder Asian Film Festival), "Adobo" (Boulder International Film Festival), "A Little Bit of Discipline" (Rosebud Film Series), and two feature length documentaries "Your Neighbor's Child" (Wyoming PBS and Rocky Mountain PBS), and "Serotonin Rising" (American Film Market, Vail Film Festival). He also directed and produced the award winning stage play "Webster Street Blues.
Dan McGeehan is an artist/actor/author. As an artist, his illustrations have appeared in countless international publications, magazines, children's books, and ads. As an actor, he attended Philadelphia's Arden Theatre training program and has performed in and/or directed over 100 productions in regional theaters across the country. As an author, he has penned a number of children's shows and short scripts.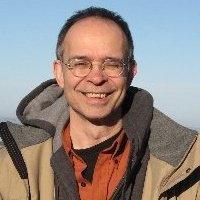 RICHARD BALLON, How Leaving Came To Me
Richard Ballon's work has been performed in New York City at Manhattan Theater Source's Sola Voces / Estrogenius Festival, Stage Left's Women at Work, MamaDrama and Left Out Festivals, Emerging Artist Theater's One Man Talking and One Woman Standing, All for One beneath St Marks, Thespian Production's Theater Madness, Secret Theater's One Act Festival, Piney Fork and Fresh Fruit Festival. Other work has been performed at Universal Theater, Provincetown, Studio 204 and Sugusta Savage Gallery in Amherst, Out of the Blue Gallery, Cambridge, Devanaughan Theater, Boston, Last Frontier Theater Conference, Valdez, Small Fish Radio and the Dylan Thomas Festival, Chicago, Walking the Wire Festival, Iowa City, Fells Point Corner Theater, Baltimore, The Inspirato Festival, and Alumnae Theater New Ideas Festivals, Toronto, Asphalt Shorts, Kitchener, ArtHotel, Montreal and First Break Fest in Manchester England. Richard is a member of the Dramatist's Guild and is a graduate of Lesley University's MFA Program in Playwriting/Screenwriting. His short films, Benefit, the Pure Dark, Circus Boy and Dear Edward have played at film festivals.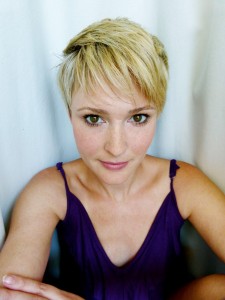 Camilla Maxwell, Shirley vs. Squirrels
Camilla Maxwell has a bachelor's degree in Media/Creative Writing from Macquarie University in Sydney, Australia,, and an associate's degree in Theatre from the American Academy of Dramatic Arts in New York City. Camilla has written various plays that have achieved great success in New York City, Missouri, Connecticut, Sydney, Melbourne and Totonto. She was a two-time participant and finalist in the Samuel French Off-Off Broadway festival in New York City (2011,2012). Currently she spends  her time living in both Sydney and New York City.
Mark Harvey Levine has had over 1000 productions of his short works all over the world from New York to Seoul to Bucharest to Cairo. His work has been translated into Portuguese, French, Hebrew, Japanese, Arabic, Romanian, Korean and American Sign Language! Evenings of his short plays have been produced in Amsterdam, Sao Paulo, Sydney, the Edinburgh Fringe Festival, New York, Los Angeles, Boston, Indianapolis, Columbus and other cities. Eleven of his plays appear in the "Best Ten Minute Play" Anthologies from Smith & Kraus, and other plays appear in the Anthologies "Laugh Lines", "Shorter, Faster, Funnier" and "Plays For Two" from Random House/Vintage. He lives online at www.MarkHarveyLevine.com, and offline in Pasadena, California with his lovely wife and son.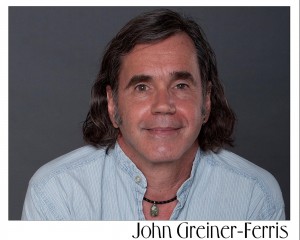 John Greiner Ferris, Taking Up Space

John's plays have been produced in Boston, Cambridge and Provincetown, Massachusetts, New York, Chicago, and Raleigh, North Carolina.Highland Center, Indiana was a semifinalist at the Eugene O'Neill Center's Summer Playwriting Conference. Turtles was a finalist at The Inkwell in Washington, D.C. as part of its Development Showcase. John is a member of StageSource, the Dramatist Guild, an Accomplice at the Interim Writers writing group in Cambridge, Massachusetts, and co-founder of Boston Public Works (www.bostonpublicworks.org). He holds an MFA in playwriting from Boston University. www.johngreinerferris.com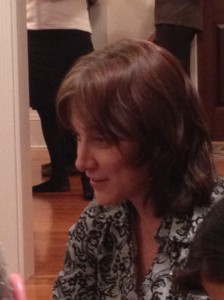 C.J. Ehrlich, The Lilac Ticket
C.J. EHRLICH's award winning one-acts have enjoyed productions around the US, from Boston to Kealakekua, from Austin to Chicago, and internationally, in Canada, Panama, England, India and beyond. Her work is published (or pending) in Smith & Kraus's Best Ten-Minute Play anthologies of 2011, 2013 and 2014, and by Heuer Press. C.J. has twice been a Heideman award finalist, and her comedy collaboration THE CUPCAKE CONSPIRACY was a finalist for the Charles Getchell Award and in the Mountain Playhouse International Comedy competition. C.J. has worked all sides of the stage, and is currently a member of the Westchester Collaborative Theatre and the Dramatists Guild. More at www.CJ-Ehrlich.com.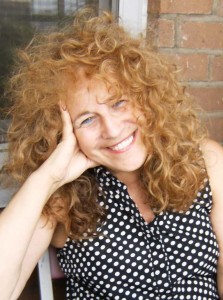 Bara Swain, Transformation
BaraSwain's plays and monologues have been performed across the country in 15 states, including Paw Paw Players (MI), City Theatre (FL), Potluck Productions (MO), Salem Theatre Company (MA), Theater Works (TN), Flint City Theater Festival (MI), Dubuque Fine Arts Festival (MO), Stage Door Productions (VA), Lyric Theatre (FL), and Theatre Under the Stars (NH). NYC venues include the Barrow Group, Abingdon Theatre Company, Sam French OOB Festival, Artistic New Directions, Project Y Theatre, Kaufmann Theatre, and Ego Actus. Recent: P.C., Eclectic Shorts, Artistic New Directions, NY; The Hotel Lobbyist ($1000 prize, 2013 Method and Madness Playwriting Competition, Denton, TX and Finalist, City Theatre National Award for Short Playwriting, FL); Critical Care, In: Creative Writing: A New Introduction by Lisa Roney, Oxford U. Press; In Fine Print (Jewish Women's Theatre, LA); 48 and Rachel Holds Court, FAB Unframed at Barrow Group, NY; Give And Take, In: Best 10-minute Plays 2013 and Beyond a Reasonable Doubt, Best 10-Minute Plays 2012 (Smith & Kraus); Forget-Me-Not, In: eTens, Original Works Publishing;How Could You?, Art Age Press 2013; Black Sheep, in: Monologues for Kids Ages 7-15 (Applause Books); Aboard the Guy V. Molinari, Ego Actus Productions, Theatre 54 (Heideman Award finalist); and by special invitation from Burt Reynolds, An Evening With BaraSwain, BRIFT, Jupiter, Florida, directed by Burt Reynolds. Upcoming: Fool Me Twice, Black Box Festival at Gallery Players, (NY),Aboard the Guy V. Molinari, Bradley U. Short Festival (IL); and Saving Grace, Raymond Flores Festival Readings (NYC). Film: Prized Begonias, 1st Place, Fort Lauderdale International Film Festival 2012 and Critical Care, Palm Beach International Film Festival 2013. She serves as Development Associate & Playwriting Outreach Coordinator, Abingdon Theatre Company, NYC. Through Abingdon's Benefit Challenge Series, Bara co-produced more than 170 new 10-minute plays.