Hello to all you BolderLife LOVERS!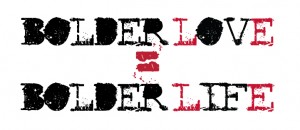 Monthly Donors are the sustaining life force of BolderLife! Help keep our vision strong by joining today!
Your contribution, large or small WILL make a difference!
Over the last 3 years, our festival has touched the lives of thousands of individuals attending our event in Colorado and abroad via our live stream programs.  After the success of our 2013 Festival, we MUST continue to grow, impact and educate on topics which are important to our world and need to be expressed. BolderLife launched the first Monthly Donors Fundraising Program, BolderLOVE, on Valentine's Day – February 14th, 2014.  Your financial support of the BolderLOVE program is fully tax-deductible and will help ensure the future of BolderLifeand our mission of providing educational programming which spurs growth through the arts and conversation cultivating boldness, freedom and inclusion.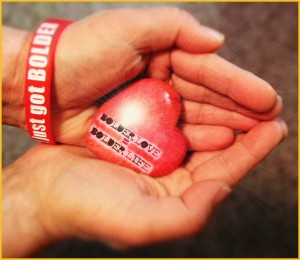 Our primary focus this year is our budding student program in which we engage high school and middle school aged students and educators by giving them the opportunity to experience an open-minded, innovative and independent way of facing difficult topics and issues. By doing this, we create a love of learning and an engaged community which nurtures leadership, recognizes achievements, and contributes to overall economic development.
Through our event, students develop useful skills and an understanding of the impact of their choices by seeing and talking about real-life stories of bullying, violence, etc. This provides them with the opportunity to choose differently and empowers them with a new humanized perspective.
For your gift of LOVE, BolderLife will return it with some LOVE of our own. For your level of BolderLOVE support you will receive: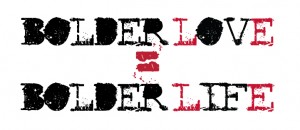 Bolder Friend: Contribution of $35 per year and volunteer for at least one shift at the festival and/or for a day prior to the event (list of needed volunteer help HERE – the cool thing is you can help from anywhere in the world!)
BolderLove for a Bolder Friend: BLF t-shirt, BLF pen, and an invitation to one members-only event.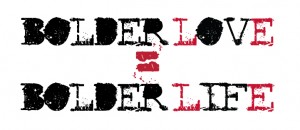 Bolder Friend with Benefits: Monthly contribution of at least $5 per month or at least $60 per year. (Funds to be paid in a lump sum or broken into monthly payments of at least $5/month up to $40/month.)
BolderLove for a Bolder Friend with Benefits: All the benefits of being a Friend plus 2 program tickets for the annual BolderLife Festival; and access to our behind the scenes "Special Page for Special People" on our website which includes private photos, video and updates of BLF staff.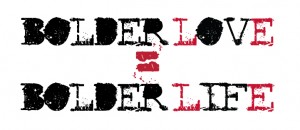 BolderLOVER: Annual contribution of $500 to $5,000 and above per year paid in a lump sum or broken into monthly payments of at least $41/month.
BolderLove for a BolderLOVER: All the above plus: a BolderLife stress ball; 2 VIP passes to the annual BolderLife Festival; free entry to all BolderLife pre-festival events; personal updates from festival director about the progress and planning of the festival; and the chance to meet one-on-one with a festival director to offer your expertise and input on areas of interest and knowledge to you.

Take action NOW! If you are feeling the LOVE, please email info@bolderlifefestival.com with your name and phone number so that a BolderLife rep can call you back to discuss your desired payment options. You can also call the BolderLife Line at 303.818.4645
The BolderLOVE monthly giving campaign is only a year commitment from you to give a little love to BolderLife. Starting Feb 14th, we will charge your credit card on the 14th of every month.
We will soon have payment options available on our website. More information on that coming.