BolderLife Festival at the Womens+Film Voices Festival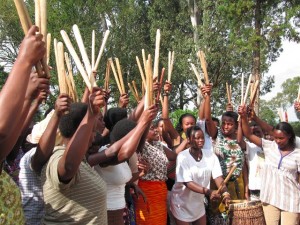 About the film:
Powerful sounds pierce the silence of the Rwandan countryside. Curious children gawk outside the gate. This is something new in Rwanda—a group of women, 60 strong, pounding out rhythms of power and joy. In 1994 Rwanda suffered a devastating genocide. Close to a million were killed by neighbors, friends, even family. Horror swept the land. And when it was over, those who remained were broken, dead inside. The country has made great strides in economic recovery, but "people are not like roads and buildings" says Kiki Katese, pioneering Rwandan theater director. "How do we rebuild a human being?"
Kiki decided to start Ingoma Nshya, Rwanda's first and only women's drumming troupe, open to women from both sides of the conflict. There was only one requirement: to leave the categories of the past at the gate. For the women—orphans, widows, wives and children of perpetrators—the group has been a place to begin to live again, to build new relationships, to heal the wounds of the past. Yet the struggle to survive and provide for their families still persists. So when Kiki came up with the idea to open Rwanda's first and only ice cream shop, the women were intrigued … What was ice cream exactly and how would they do it? Kiki invited Jennie and Alexis of Brooklyn's Blue Marble Ice Cream to come to Rwanda to help the drummers open their shop, which they aptly named Inzozi Nziza (Sweet Dreams).
Sweet Dreams follows this remarkable group of Rwandan women as they emerge from the devastation of the genocide to create a new future for themselves. "Because of our history, people know how to fight against, but not for," Kiki says. "We want to change that equation."
Meet the BLF Festival Team
Meet the BLF Festival Director Erin Kelly and Diane Feliciano, head of our Women's Programming Series and of Diversity/Inclusion Committee, at the Denver
Sie Film Center,
on March the 22nd. You can find our BLF team and table in the lobby from around noon on. Get brandnew information's about BolderLife 2014, secure your first tickets and awesome merchandize.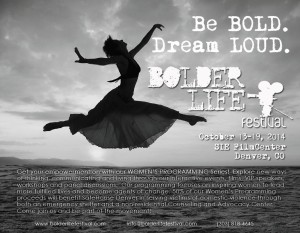 Explore the exclusive BLF WOMEN'S PROGRAMMING Series first!!!
Get your empowerment on with our brand new BLF WOMEN'S PROGRAMMING Series! Explore new ways of thinking, communicating and living through our interactive events, films, VIP speakers, workshops and panel discussions. Our programming focuses on inspiring women to lead more fulfilled lives and become agents of change to help other women in need. 50% of our Women's Programming proceeds will benefit
SafeHouse Denver
in serving victims of domestic violence through both an emergency shelter and non-residential Counseling and Advocacy Center. Come join us and be part of the movement!