BolderLife points unfiltered spotlight on difficult topics
If the old adage 'a picture is worth a thousand words' holds any truth, than films speak volumes and prompt us to reflect on our place and plans in the world, and often inspire us to expand our greater understanding.
This year's BolderLife film program does that, and more. Plus, with the new venue featuring two different screening options – with the additional space in the education center – has had a significant impact on the film selection, explained Jobi Berger, filmmaker liaison. The venue allows for an even greater variety of topics to be presented on screen.
"I think that this year is one of the best in terms of films that will be included in the festival," Berger added. "As always, we have a variety of shorts, features, documentaries, narratives, and animated. Topics range from human trafficking, adoption, mental illness, resilience, leadership, and much more.
"I am looking forward to presenting them to the community and meeting some of the filmmakers who I have been communicating with along the way."
Jobi Berger, BolderLife's Filmmaker Liaison
In the coming weeks we'll profile the films included in this year's festival, beginning with one of the feature documentaries, "Private Violence." We will be showing this award winning film as a part of the Women's Programming.
In "Private Violence" we have the opportunity to meet Deanna Walters, a woman, mother and survivor, on a journey to obtain justice for the violent crimes leveled against her by her estranged husband. Joining Walters in every difficult, but life-affirming step of this journey is Kit Gruelle, a woman, mother, survivor and advocate seeking justice for all women impacted by intimate partner violence.
"Leaving an abuser is not an event, it's a process," says Gruelle in one scene. "And that's where advocates come in."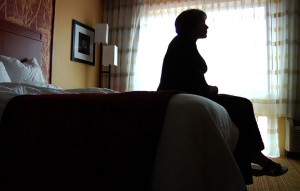 This film shines an unfiltered spotlight on the often hidden, silent, misunderstood, and lonely reality of abuse. A reality that results in the murder of at least four women by abusive partners/ex-partners every day in the United States, according to information provided by "Private Violence."
In another scene, Gruelle references a stack of 45-50 restraining orders on the table before her. The restraining orders were filed by women who were later murdered by their abusers, just as they had said they would be. The cases were from one state, during the course of one year.
"I sometimes refer to restraining orders as a last will and testament, because battered women are the experts in what's happening in their relationship," Gruelle said. "Society needs to treat them like the experts that they are.
"When she says 'he's going to kill me or he's going to kill my family, or he's going to kill my cousin if he can't get to me,' we have got to step on the brakes and slow down and take that whole thing seriously."
This film demonstrates why the answers to intimate partner violence are anything but simple, and why advocacy and truer understanding are paramount.
Private Violence (91 minutes)
Director: Cynthia Hill
written by Antoinette Rahn