Behind the Screen: "Sidewalk" and "The Morning of Everything"
"Filmmaking, like any other art, is a very profound means of human communication."  ~Kenneth Lonergan
Fortunately for all of us, films often communicate tremendously inspiring, emotionally defining, and mindfully challenging sentiments about life, humanity and the world we share.
During the BolderLife Festival (Oct. 13-19, 2014) we will present a variety of films that speak to timely issues, and shed light on and encourage discussion of difficult topics impacting the lives of people around the world. A common theme among all these films, be it a 4-minute animated short or a 96-minute feature documentary, is the honest and urgent call to deeply consider how we view and address these issues in our own thoughts, words and actions.
The action these filmmakers have taken in presenting these issues is bold, and may we be bold enough to allow that to revolutionize and energize how we meet humanity every day.
In the coming weeks we'll provide glimpses into the films being shown during the festival. Today's mini profiles include "Sidewalk" by Celia Bullwinkle and "The Morning of Everything" by Jeff Stern.
"Sidewalk" by Celia Bullwinkle
In "Sidewalk" filmmaker and animator Celia Bullwinkle invites us to observe the journey of a girl as she grows and changes in mind and body, while traveling the 'sidewalk' of life.
From the seemingly carefree days of youth, into the sometimes confusing and uncertain teen years, the girl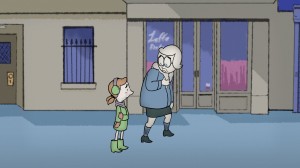 is continually presented with messages prompting her to become something more and perhaps better than she thinks she is. The messages and experiences continue to impact how she sees herself and her place in the world, whether she is working, cultivating relationships, raising children, or simply being.
Throughout her journey along the sidewalk of life, as her body continually changes, we see how those outside factors influence how much or more accurately, how little she truly loves and values herself. Ultimately, she discovers that the value she longed to find doesn't come through conforming to the 'norm', limiting or distancing herself from her uniqueness, or following the path others have traveled. By learning to truly love herself, as she is and for who she is, she discovers her value is innate and has been there all along.
"Sidewalk" will be presented as part of the BolderLife Women's Program.
"The Morning of Everything" by Jeff Stern
The questions filmmaker Jeff Sterns asks of himself, and the rest of us by extension in "The Morning of Everything" are things many of us may wonder about, but may not say out loud. In this lyrical short, a father experiencing a fevered dream, envisions the world through the eyes of his three-year-old son.
"The Morning of Everything" is described as a meditation on growing up, being young, pushing things too far and pulling them close again. Throughout the dream the father observes his son's exploration of the world, in search of his lost toy owl, while also reflecting on his own mindset and place in the world.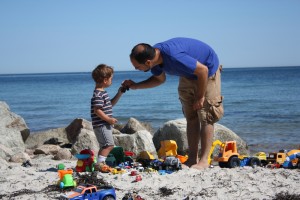 "I was rediscovering the world through him. I realized that the world that a small child sees is raw, bright, loud, dangerous, and delicious," states Stern in his director's statement. "The word "overwhelming" doesn't do justice to the relentless overload. And yet, from the moment he is born, a baby will dedicate himself to the massive task of making sense of the world."
As he watches his son take inventory of a variety of toys, searching for his owl, but doing so without anxiety, the father marvels at his son's "nowness." Which leaves the man wondering when it was that he lost that trait. While the boy travels across field and valley to bustling city sidewalk during his search, the father wonders what the boy would become; how his young son's mind works; and how strong his will is, all while wondering the same about himself.
As the journey draws to an end, the father makes a bold statement: "If life was just chaos, and if nothing made sense, I'd stay here with him in the wild present tense."
Join us for this year's BolderLife Festival to experience these thought provoking films, and so much more. We'll save you a seat.
By Antoinette Rahn