2012
The BolderLife Festival was born.
The primary interest was programming with inspirational, thought-provoking and educational films that promoted a more conscious approach to how we live and would highlight the courage and triumph of the human spirit.  To provide the audience with an opportunity to further explore some of the topics raised, educational presentations, workshops and panels were to be offered in tandem with the line-up of films.
The 2012 BolderLife Festival started Wednesday, September 19th with Audience Choice Award winning film "Town of Runners" and ran through Sunday, September 23rd in North Boulder.
Filmmakers from around the country were in attendance and wonderful Featured Presenters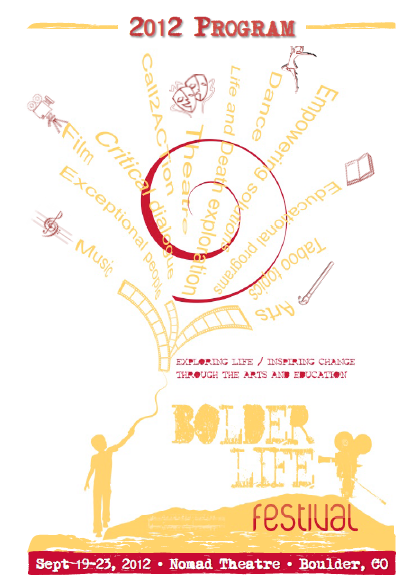 included Rosalind Wiseman, Judith Simmer Brown and Rose Garcia. Guest speakers also include Jenny Ferry, Mark Andreas, Caroline Lindroos, Alaya Love and Ross Rogers talking about a range of diverse topics from Soul Sex to Conflict Resolution, Gardening to Grieving Processes.
A short walk between venues sparked the imagination and brought our audience into an Exploratory of art and musical pieces for people to experience. Our movement selection included exciting sessions from Laughter Yoga to Tango classes.
The 2012 program featured:
46 International Films
9 Original Plays
13 Educational Programs
For more information on the 2012 event click here.
2011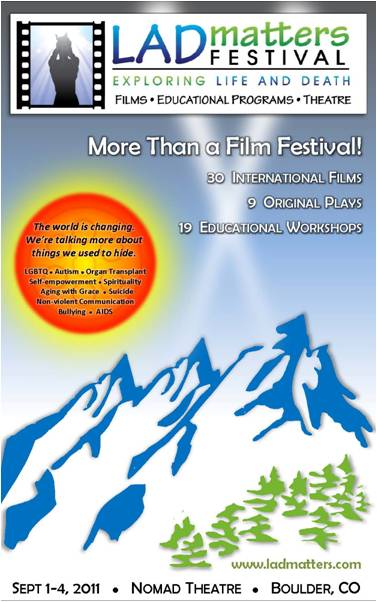 How did we get here? The concept behind a program that closely examined physical and spiritual challenges we face in life was first conceived in 2011.
On September 1-4, 2011, an event Entitled the Life and Death Matters Festival (also known as LADmatters),  premiered at the historic Nomad Theatre in Boulder, Colorado.  It was a heartwarming success with over 1000 in attendance. We hosted an array of filmmakers from as far away as Germany and England and celebrated their willingness to travel to Boulder and be a part of it all.  Our film selection brought laughter, tears, applause and also, in-depth discussion on controversial topics. The 2011 program featured:
30 International Films
9 Original Plays
18 Educational Programs
We were proud to host a series of Guest and VIP Speakers including Dr. Temple Grandin (author, educator, champion of rights for the autistic), Colorado Congressman Jared Polis, Colorado University Theatre Professor Dr. Beth Osnes and Boulder International Film Festival Director Kathy Beeck.
For more information on the history of the 2011 event please click here.