We're very excited to be introducing our Women's Leadership Programming…a brand new element we're adding to our festival line-up this year.  A programming that will transcend age, race, class, culture and sexual identity among women and work towards one common goal.
True to BLF's mission, our Women's Leadership programs use artistic platforms such as film, theatre and music to set the stage for conversation, exploration and learning which is guided and encouraged by our keynote speakers, educators and panels. Another key element to our Women's Leadership programming is its annual initiative to raise awareness, inspire a call – to – action and raise funding for a cause that would help empower women in need. This year we will be focusing on Domestic Violence with 50% of our programming proceeds benefiting SafeHouse Denver, a non-profit organization which serves victims of domestic violence through both an emergency shelter and  non-residential Counseling and Advocacy Center.
 Diane Feliciano, Director of Women's Programming:  "We've set a course for programming that transcends age, race, class, culture and sexual identity. Our goal is to  empower women from all walks of life to recognize and increase their inner strength, validate their emotional intelligence, develop their leadership skills and become agents  of change. We want to celebrate the inherent spirit, drive and resilience in women from around the world and use this to ignite personal and group transformation. The  outcome we seek is to equip women with skills for action in the real world, whether at a personal level, within their career or in and around their community."
Join us for our Women's Programming Line-Up!
 I. Panel Discussion
Living Out Loud: Women & Girls in Society, Business and Government
"If you ask me what I came into this life to do, I will tell you: I came to live out loud"

– Émile François Zola
Ask yourself: Are you living the life you want?  Are you living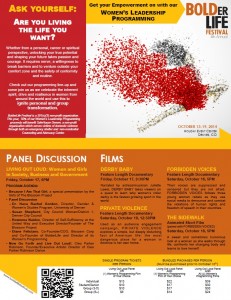 deliberately rather than letting life just fly by or according to someone else's rules? If you're not living out loud then there's a huge gap with what your life is and what your life could be.
BolderLife says: Get inspired and start creating a life that you want to live! One that you look forward to living every morning. A life worth living that truly leverages your passions and touches other people.
Whether from a personal, career or spiritual perspective, unlocking your true potential and shaping your future takes passion and courage. It requires nerve; a willingness to break barriers and to venture outside your comfort zone and the safety of conformity and routine. It means being able to take a well-defined stand; to manage one's reactivity to the emotional reactivity of others, and an ability to preserve oneself while also managing healthy relationships with others.
Join our panelists, representing women "living out loud" in academics, business, government and social activism, as they offer their personal insights and some practical strategies that women and girls can employ to become successful in their personal, career or spiritual lives. But first, get your empowerment on with a special presentation of "I Am That Girl" from The Blossom Project!
Agenda:

 Panel Discussion Takeaways:
What it means to be authentic
How to find your inner strength and take a well-defined stand
Strategies in facing challenges that have required courage and confidence
Stepping outside the comfort zone – why it's one of the most important things we can do
The importance of taking risks and giving back
The role of emotional intelligence in your personal growth
Across generations, the changing environment for women and girls
 II. Feature Length Documentaries
Zina Ortiz – Counselor for Private Violence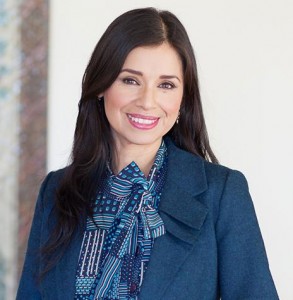 Zina helps adolescents, women, and families heal emotional wounds, find internal peace, and have a happier life. She has been providing therapeutic services to a diverse population since 1997. With kindness and compassion she  helps my clients achieve a greater sense of self-esteem and confidence.
What sets her apart from her colleagues is that she  has taken the time and made a conscious effort to work on her personal issues and traumas, and has made the professional promise to only work on those issues similar to her own. Zina says with great confidence that everyone has the capacity to recover from old wounds completely, and you don't have to do it alone. Understanding that while everyone's experience is unique and different, there is a common human element that unites us all in this journey called life.  Learn more here www.elephantintheroomllc.com/
Purchase Individule Film Tickets on our Films Page
 III. Short Film
The Sidewalk  (paired with Forbidden Voices and the Shorts Program)
Cheyenne's Story (paired with the Shorts Program)
Single/Group and Bundled Ticket Prices

To Purchase Group and Bundled Packages: Please visit the box office during the festival, come to the BolderLife production office during business hours, or call the BolderLife Line 303.818.4645 and we will be happy to assist you.
Group and Bundle Packages MUST be purchased prior to the event being purchased, discount rates will not be available at the door. 
To Purchase Individual tickets please visit the programs page.
For more information about our festival in October that uses film and the arts as a catalyst for opening up challenging conversations and developing emotional education, stay tuned. Alternatively, you may email or call the Women's Leadership Program Director, Diane Feliciano at  diane.m.feliciano@gmail.com or 847.977.3982.
The BolderLife Fundraiser Gala 2014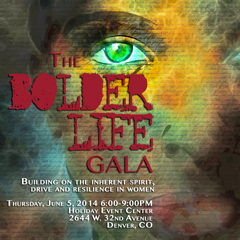 The 2014 BolderLife Gala happened  on  June 5th at the Holiday Event Center.  See pictures here. The BolderLife Gala featured cocktails, live and silent  auctions, epicurean delights and entertainment – in support of the BolderLife Women's Leadership Programming that  will be delivered at our 2014 Festival in October. In addition, we are proud to announce that 50% of the proceeds from the Gala will benefit SafeHouse Denver, a non-profit organization which serves victims of domestic violence through both an Emergency Shelter and non-residential Counseling and Advocacy Center.
We have a variety of sponsorship opportunities available for this program. Please view our sponsorship packet for detailed information on the event, sponsorship levels and associated benefits, our sponsorship agreement and additional information about the BolderLife Women's Leadership Programming.
For more information about donations, stay tuned for more information or email mailto: diane.m.feliciano@gmail.com.
Bright-Bold-Colors –
Come join our movement
We're launched our Bright-Bold-Colors campaign.  This is the emblem we'll proudly fly this year for our Women's Leadership programming and all of our efforts to help put an end to Domestic Violence.
Come join our movement and show your support by considering a donation by purchasing a Bright-Bold- Colors t-shirt or other product in our brandnew online store.