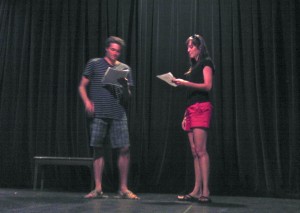 2012 BolderLife Theatre
To read more about our writers CLICK HERE, our directors CLICK HERE, and our actors CLICK HERE.
The Program
Kamasutra

Is fiery passion still attainable after 30 years of marriage?
Playwright: Tom Coash- New Haven, CT
Director: Erich Toll
Cast: Vonalda Utterback (Doris), Michael Vasicek (Harold)
Sitting Together
A prospective medical student make friends with an older woman and shares her passion for pictures, memories, and a disdain for eavesdroppers.
Playwright: Russell Weeks- Seattle, WA
Director: Boyd McCollum
Cast: Sarah Javors (Carrie), Joel Parker (John), Ellen Ranson (Maggie)
Living in a Road Movie
At what point in a young man's life is it appropriate to ask your father to reconsider his choices?
Playwright: Judy Klass- Nashville, TN
Director: Ian Gerber
Cast: Cody Cessna (Trey), Greg Winkler (Dad)
Eternity
Would YOU want to spend an eternity in heaven looking wrinkled and saggy?
Playwright: Elan Garonzik- New York, NY
Director: Vonalda Utterback
Cast: Maureen Cassulo (Lilly), Michael Vasicek (St. Peter)
Food for Thought
In the war between the sexes, is food the ultimate weapon?
Playwright: Rich Rubin- Portland, OR
Director: Janine Kehlenbach
Cast: Dawn Bower (Cindy), Anthony Prichard (Spencer)
INTERMISSION
The Wonderful World of Science
What happens when a researcher comes face to face with a sufferer of the disease?
Playwright: Steve Gold- Jamesburg, NJ
Director: Marcin Mroz
Cast: Michelle Hanks (Woman), Vanessa Roberts (Lisa, Researcher)
Tag Lines
Is it anyone else's business what your son or daughter writes in a text?
Playwright: Laura Fois Bosley- New York, NY
Director: Satya Peram
Cast: Michelle Hanks (Meredith), Autumn Lea Mann (Nancy)
Time is Nature's Way of Ensuring Everything Doesn't Happen at Once…
Based on a true story…imagine for a moment what life might look like for you if everything happened all at once…
Playwright: Erich Toll- Boulder, CO
Director: Erich Toll
Cast: Patrick Emerick (Eugenios), Bill Graham (Satyricus), Phyl Park (Amius)
Exploding Maggie
What happens when a fictional character rebels against her writer/creator when she disagrees with the dark direction her narrative is taking?
Playwright: Kevin Jones- Cardiff, Wales, UK
Director: Heather Woodruff
Cast: DeAnna Heimsoth (Maggie), Phyl Park (Writer)