Meet Coach and Writer Mark Andreas
In situations of conflict, is it possible to change the behavior of others by changing our own behavior or by using the right words skillfully and with heart? Conflict comes in major ways between groups and nations, but also in small persistent ways between strangers, neighbors, friends, and family. It is these situations that Earlham College Peace and Global Studies graduate Mark Andreas has studied. Join Mark for a reading from his book, "Sweet Fruit from the Bitter Tree: 61 Stories of Creative and Compassionate Ways out of Conflict." Mark will share some of these stories that illustrate creative and often surprising ways people have found to address and transform conflict. Then you'll have a chance to explore your own and others' real-life scenarios, and have fun generating possible solutions. Whether you are experiencing conflict with others or within yourself, learn ways to resolve these challenging situations by staying connected through difficulty and drawing on creative inner resources. Signed books will be available for purchase for $15.00, and all proceeds will go directly to the BolderLife Festival.
We want to learn more about Mark Andreas.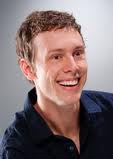 BolderLife Festival: BolderLife Festival is heading into its 3rd year. How did you get involved in BolderLife? And for how long?
 Mark Andreas: Erin Kelly is a long-time friend and colleague. I was a volunteer for the first BolderLife Festival (when it was called Life and Death Matters). I really enjoyed the variety and quality of the short films, and the documentaries I saw were very impactful, one startling, one celebratory and humorous! Though I didn't see the live plays that year, I heard they were amazing.  The next year I was excited to give a Bolder Talk as a lead up to the BolderLife Festival in 2012. You can hear the story I shared from that talk on YouTube HERE . 
BolderLife Festival: What do you think about in BolderLife's new mission/vision statement?
Mark: What better past-time than to explore life and inspire change through the arts and education?!
BolderLife Festival:  What are you doing at the festival? Where will we see you?
Mark: I will be speaking as part of the Student Outreach Program, and also as the opening guest speaker for Craig Zablocki. In both cases I'll reenact some stories from my book "Sweet Fruit from the Bitter Tree: 61 stories of creative and compassionate ways out of conflict," and invite exploration into how we can have more creativity and flexibility with the conflicts in our own lives.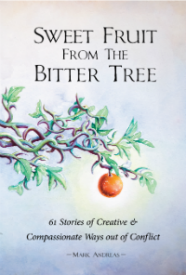 BolderLife Festival: What are you doing when you are not working for BolderLife Festival?
Mark: Seeing private clients through my personal change private practice, (markandreas.com) where I assist individuals in achieving life goals and resolving limitations using NLP, Core Transformation, and other forms of personal growth and development. Lately I've been focusing on working with youth, and people suffering from anxiety.
BolderLife Festival:  What would you say to the world:  Why should people come to the festival?
Mark: To the world I would say this: consider donating a small amount to the Against Malaria Foundation, the price of a Starbucks coffee can go a really long way in getting crucial Malaria nets to people in dire need: http://www.againstmalaria.com/

Come to the festival to be inspired and educated, but also to meet a great crew of people. Consider volunteering for the festival and you'll meet even more great people.
BolderLife Festival:  What are you looking forward to mostly?
Mark: I'm looking forward to being surprised by seeing something new that will expand my world.
Thank you very much, Mark!
Talk Information:
SIE Film Center – 2510 E. Colfax Avenue Denver, CO 80206
Sunday, December 8th at 11:00am
Ticket Price: $15 all admissions
Opening Guest Speaker
Mark Andreas has a Personal Change Coaching private practice in Boulder CO, where he offers individual sessions assisting people in achieving life-goals and resolving limitations using NLP, Core Transformation, and other methods for personal transformation and development. Mark specializes in the topic of anxiety, and working with youth (markandreas.com). He is also a co-sponsor of Andreas NLP Trainings (andreasNLPtrainings.com), which offers cutting-edge NLP trainings in Boulder. Mark has traveled the country sharing stories and offering workshops based on his book "Sweet Fruit from the Bitter Tree: 61 stories of creative and compassionate ways out of conflict," endorsed by Dan Millman and William Ury. Mark's past experience includes receiving his undergraduate degree in Peace and Global Studies at Earlham College, after which he worked for two years as a counselor/trip leader for a Wilderness Therapy company, facilitating groups of "troubled" youth on a round-the-clock basis both in individual therapy and group process during three-week-long backpacking expeditions throughout the western United States.