2014 Program Forecast and selected Highlights
We are proud to announce an outstanding program line up for this year's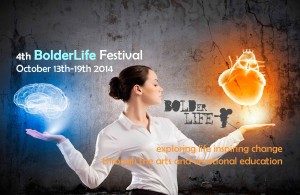 BolderLife Festival. We are focusing on current topics in our Women's Program, such as Domestic Violence, Women and Girls in Society, and Economy and Politics. The BolderLife films include such topics as Sex Trafficking, Adoption, Sexual Abuse, Racism, Generations and Family and much more. In our Fine Arts Show we will focus on Live and Love and Human Trafficking. Our Student Program will cover the important topics of Bullying/Teen Suicide Prevention, and Resilience & Leadership and Empathy.
We kick off the BolderLife Festival week with a meet and mingle in our production office on Monday, October 13th, 2014. The event continues the next day, October 14th, with our student program. Students from the Denver metro area will experience a Themed Student Program offered over the course of the week with International Films and interactive activities. Topics of the Student Program that will be covered are: prevention of bullying and suicide, cultivating resilience and leadership, and exploring empathy through powerful survival stories of human trafficking. We welcome the entire community with a festive Opening Gala on Thursday, October 16th and officially open the 2014 BolderLife Festival. After four days of film, theatre, art, and educational experiences we will celebrate the Closing Gala on October 19th with award winners and all festival attendees
The components of our artistic programming 2014 are
FILM: We are presenting 15+ international short, feature-length, and documentary films from all over the world. Each film is carefully selected to shed light on timely topics like human trafficking, domestic violence, adoption, family, and racism.
THEATRE: Eight original plays were selected, each in alignment with our vision. International playwrights, local actors, and directors working together to provide a diverse and thought-provoking theatre program.
EDUCATION: With several discussion panels of outstanding women, guest filmmakers, experts on human trafficking, and a variety of keynote speakers, we are offering emotional education through the arts.
FINE ART: A variety of original artwork by six local artists showcased throughout the venue that complements and celebrates the spirit and vision of the festival.
MUSIC: Live musical performances by local artists are held during the opening and closing night festivities.
Selected Highlights
Special guest:
Opening gala (October, 16th)  speaker, educator, TEDx champion: Ash Beckham. Closing Gala (October, 19th) with red carpet, cocktails, food.

Robyn Vie Carpenter-Brisco
Dr. Pam Gillen
Mark Andreas
Craig Zablocki
Rick Gunn
JP Butler
Involved Organizations/Community Partners (Selection):
The Blossom Project
Free the Girls
iEmpathize
SafeHouse Denver
The Rose Andom Center
Filmmaker Talkbacks/Panel with
JoAnne Tucker (Cheyenne's Story)
James Barrett (Blackbird)
Christopher Wilson (You Have his Eyes)
Women's Panel: "Living Out Loud: Women & Girls in Society, Business and Government" with
Dr. Hava Rachel Gordon, Director, Gender & Women's Studies Program, University of Denver
Susan Shepherd, City Council Woman/District 1, Denver City Council
Roweena Naidoo, Director of Self-Sufficiency at the United Way and Executive Director/Founder of The Blossom Project
Diane Feliciano, Co-Founder/COO, Biocosm Corp and Co-Founder of BolderLife and Director of its Women's Programming
Cleo Parker Robinson, Founder/Executive Artistic Director of Cleo Parker Robinson Dance
A key element to the Women's Leadership programming is its annual initiative to raise awareness, inspire a call – to -action and raise funding for a cause that would help empower women in need. This year we will be focusing on domestic violence with 50% of our programming proceeds benefiting SafeHouse Denver, a non-profit organization which serves victims of domestic violence through both an emergency shelter and non-residential Counseling and Advocacy Center.