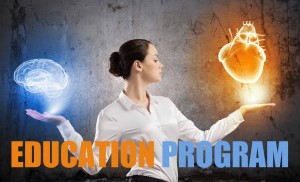 Emotional skills and emotional education are crucial to a healthy life, but developing them is hard work. BolderLife supports this work through our educational programming. We introduce difficult and taboo topics through the arts, and deepen the conversation with the help of our community partners, professional speakers and workshops. We help our audience explore discomfort and cultivate courage and are dedicated to bringing community together to learn, improve and grow.
To date, all of our programing has highlighted minority groups and taboo or closeted topics.
We are focusing on current topics in our Women's Program, such as Domestic Violence, Women and Girls in Society, and Economy and Politics. The BolderLife films include such topics as Sex Trafficking, Adoption, Sexual Abuse, Racism, Generations and Family and much more. In our Fine Arts Show we will focus on Live and Love and Human Trafficking. Our Student Program will cover the important topics of Bullying/Teen Suicide Prevention, and Resilience & Leadership and Empathy.
True to BolderLife's mission, our programs use artistic platforms such as film, theatre, dance art and music to set the stage for conversation, exploration and learning which is guided and encouraged by our keynote speakers, educators, panels and special programs.
Dr. Hava Rachel Gordon, Director, Gender & Women's Studies Program,University of Denver
Susan Shepherd, City Council Woman/District 1, Denver City Council
Roweena Naidoo, Director of Self-Sufficiency at the United Way andExecutive Director/Founder of The Blossom Project
Diane Feliciano, Co-Founder/COO, Biocosm Corp and Co-Founder of BolderLife and Director of its Women's Programming
A special closing presentation by Cleo Parker Robinson, Founder/Executive Artistic Director of Cleo Parker Robinson Dance 
Learn more about the event and the panelists here
Host: Shaady Salehi  from Active Voice

Learn more about the event here
Host: Alexis Newton  – Free the Girls
Panelists
Sharon Hamilton, Educate2Protect, Human Trafficking education related to truancy, runaway trends, traps and harm
Pam Harvey, Amy's House for Girls, Dedicated to guide and inspire survivors of sex trafficking on their path to healing and self-empowerment.
LT Dan Steele, Denver PD, In partnership with the community, the Denver Police Department strives to operate a police agency focused on preventing crime in a respectful manner, demonstrating that everyone matters.
IEmpathize, is an international human rights non-profit dedicated to combating crimes against children.
Additional Panelists TBA
Dancer: C.B. Younger, Hannah Finch
Artist/Photographer: Keri Mills
Learn more about the program and the panelists here
JoAnne Tucker, Lynette Montoya, Lindarose Berkley (Cheyenne's Story)
James Barrett (Blackbird)
Christopher Wilson (You Have his Eyes)
 Jessica Chance,  James Chance, Patrick Gillespie (Living with the Dead)
 Ron Patrick, David Wruck, Robin  Bond (Derby, Baby)
Learn more about the event and the panelists here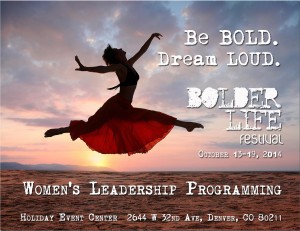 We're very excited to be introducing our Women's Leadership Programming…a brand new element we're adding to our festival line-up this year.  A programming that will transcend age, race, class, culture and sexual identity among women and work towards one common goal.
At BolderLife, we want to celebrate the inherent spirit, drive and resilience in women from around the world and use this to ignite personal and group transformation. The outcome we seek is to equip women with skills for action in the real world, whether at a personal level, within their career or in and around their community. 50% of the proceeds for our women's Leadership Programming will benefit SafeHouse Denver, a nonprofit organization which serves victims of domestic violence through both an Emergency Shelter and non-residential Counseling and Advocacy Center.
Learn more about the Women's Leadership Programming here